It's taken us an unexpectedly long time to get to this point, but after some issues (huge shipping delay from Poland to Scotland, and a slightly poorly Vectrex), we're finally ready to get everyone to vote on what single colour we should use for the Vecribbon overlay background.
Yes, we've officially given up on gradient for this release. However, the colours we have to choose from are really pretty and don't suffer from the diffusion issue of our gradient prototype.
All the colours are shown below. Each is captured in a dark environment (pink-numbered images) and with ambient light (hand-numbered images).
Many of the swatches look completely different when placed on the Vectrex, as opposed to holding the contact sheet up to light; in fact a few apply only a tiny amount of colouration to the vectors (eg 8, 10, 11, 32).
These samples are 200 micron polycarbonate; the final product will either use a 500 micron version of the chosen colour, or a thin film layer which will be permanently bonded to a clear polycarbonate backing.
If you're a registered user you can vote in the poll below. In this poll, we'll all pick our 3 favourites. Once enough people have voted, we'll take the 5 most popular and have a second vote to decide the final colour.
Dark Surroundings
Click to enlarge each pic.
With Ambient Light
Again, click 'em to biggerise.
Contact Sheet
Finally, as reference, here's the original contact sheet (in case you already fell in love with a colour). Do check how your preferred option looks on an actual Vectrex above, though!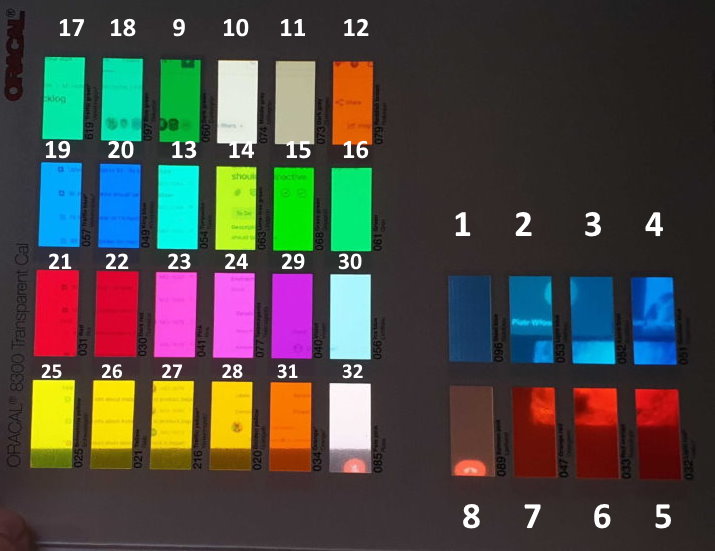 Let's Vote
Alright, let's do this thing! Pick your THREE faves 🙂 The vote will stay open for a week or so.